Oysters are an acquired taste, shall we say? While some can't stand the thought of sucking on these bivalves, many people enjoy this delicacy and are constantly looking for new ways to serve these tasty mollusks. 
Whether you're a seasoned oyster enthusiast looking for new ways to spruce these up, or you're a novice, wondering what you can add to this fish, this article is for you. 
We are going to be going over 10 of the best oyster dressing recipes. Knowing what goes with oysters can be tricky, but we've got you covered! 
Mignonette is a classic dressing that is used for oysters, and lucky for you, it's pretty easy to make! All you need are two shallots, sparkling chardonnay, chardonnay vinegar, champagne vinegar, and crushed pepperberry. See the full recipe for measurement details.  
Simply combine the ingredients together in a bowl, stir, and season with pepperberry to taste. Drizzle over the oysters, and enjoy! 
Pomegranate dressing on oysters is fruity and tangy, and pairs very well with the sweet and salty oysters. The ingredients are super simple, and you'll probably have most of them lying around in your pantry. 
You'll need 2 tablespoons of pomegranate molasses, red wine vinegar, extra-virgin olive oil, arils from a small pomegranate, and a chopped shallot.
Just mix all these ingredients into a bowl, and season with some black pepper. Spoon a bit of dressing over each individual oyster, along with some cilantro for an extra flavor. 
See recipe for full measurements of ingredients. 
Asian dressings pair wonderfully with oysters, so if you're a fan of Asian flavors, this dressing is for you. The ingredients you will need are soy sauce, rice wine vinegar, sesame oil, and 2 green shallots. 
Mix all the ingredients into a jar with a screw-top lid, and shake well to combine. Drizzle the dressing over the oysters, and sprinkle over some green shallots. 
See recipe for full measurements of ingredients. 
Butter is one of the world's greatest creations, no matter how you serve it. Whether it's melted and warm, or simply spread on some bread, there are few things that are more comforting.
This seaweed butter is no exception to this. Imagine a warm, flavorsome oyster, topped with warm, salty butter that'll make your taste buds go crazy. 
This dressing goes perfectly with oysters that have been cooked over a barbecue. Enjoy during the summer months, or during the winter when you need some extra comfort. 
The only difficulty with this recipe is that you'll only be able to find some of the ingredients in Japanese grocers. If you haven't got any close by, ordering online is an option. 
You'll need some shio kombu, softened butter, dried wakame, and white soy sauce. Add all your ingredients to a saucepan and stir until melted together. Top off your oysters with this yummy butter, and enjoy. 
See recipe for full measurements of ingredients. 
This is another dressing that pairs best with oysters that have been cooked on the barbecue.
Aside from the wonderful taste, throwing oysters on the barbecue is beneficial as the heat will pop open the shells for you, so you don't need to shuck them yourself, as that can be tricky and time-consuming. 
You wouldn't have thought it, but bacon pairs very well with oysters, due to their salty taste, so this recipe includes adding some bacon on top of each oyster as well as the sauce. For the sauce, you'll need tamarind pulp, palm sugar, fish sauce, and small red chilies. 
Push the tamarind pulp through a sieve, so you are left with just the liquid. Add the sugar, chili, and fish sauce, and stir it all together. With the bacon, remove the rind, and pan fry the bacon until crispy. Place some bacon on each oyster, and drizzle the chili tamarind sauce on top.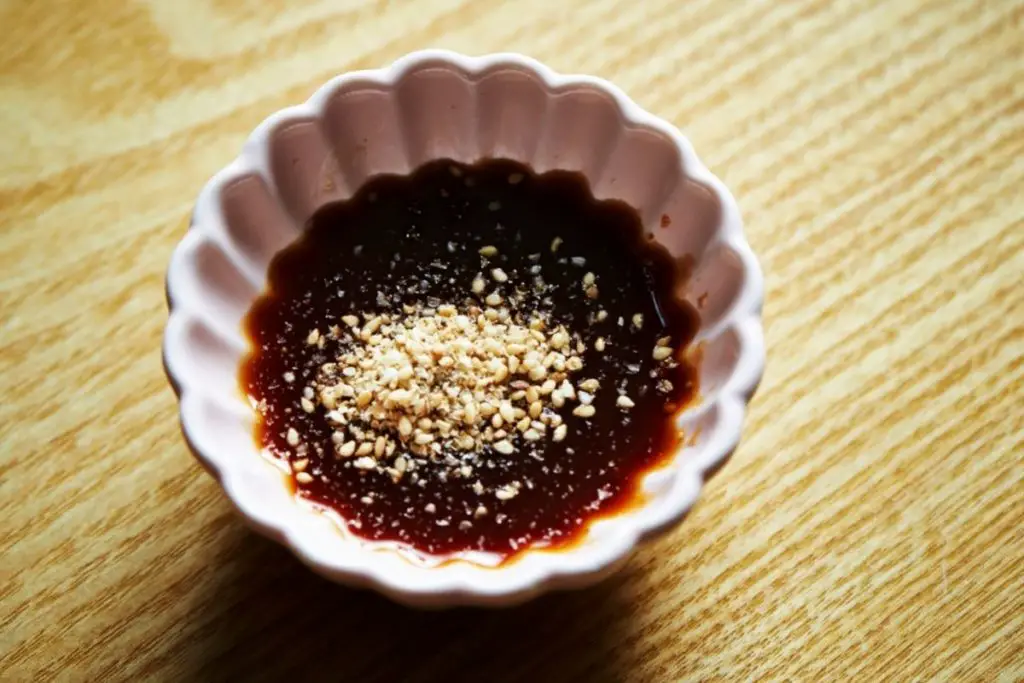 This dressing provides a wonderful kick for those taste buds. See recipe for full measurements of ingredients. 
This dressing is deliciously herby, and pairs very well with sea-briny oysters. It is a very simple recipe, requiring tarragon vinegar, extra-virgin olive oil, french tarragon leaves, and chives. 
All you need to do is mix all these together in a bowl, and drizzle them over the oysters. This is a light dressing that still allows the fish taste from the oysters to come through, adding a hint of herbs from the dressing and flavors. 
See recipe for full measurements of ingredients. 
Lemon is known for accompanying fish very well, and the same goes for oysters. This dressing follows this tradition, with a little kick from the extra added pepper. The citrus flavors balance out the salty taste from the oysters, making this a wonderful combination.
You'll need some caster sugar, freshly squeezed lemon juice, and ground black pepper. Add the sugar to boiling water and stir until the sugar has dissolved.
Then add the lemon juice and pepper, continuing to stir for it to combine. Pour into a small tray, and freeze for around 6 hours, or leave overnight.  
Scrape the mixture once you've taken it out of the freezer to make a granita, and add onto your oysters. 
See recipe for full measurements of ingredients. 
As you can see from this list so far, spice pairs nicely with oysters, balancing out the saltiness from the fish. This recipe asks for a fennel bulb, rice vinegar, whites sugar, and small red chilies. 
Dice the fennel finely and set aside. Boil the rice vinegar, sugar chili and 100ml of water in a saucepan and add the diced fennel. Let these infuse for 2 hours, and then pour this over the delicious oysters. 
See recipe for full measurements of ingredients. 
Chimichurri is a specialty of Argentina and Uruguay and is a herb-based dressing used typically for meats. Its bold, garlicky, and herby flavor compliments the flavor of oysters, and it is a very simple dressing to make. 
You'll need to mix together diced red onion and jalapeño pepper, a clove of garlic, some parsley, cilantro, oregano lemon juice, red wine vinegar, pepper, and olive oil. Once you've combined these ingredients, you can drizzle the chimichurri over the oysters for an amazing flavor. 
See recipe for full measurements of ingredients. 
Pesto is a favorite for all kinds of meals, pasta, sandwiches, you name it! However, many people aren't aware that pesto pairs wonderfully well with oysters. Instead of reaching for the store-bought stuff, this recipe will show you how to make your own! 
Chop together some basil leaves and dill finely. Add some chopped pine nuts, Parmesan, and olive oil. Stir the olive oil with the rest of the ingredients until there's some thick consistency. Add some lemon juice, salt, and pepper, and voilà! 
See recipe for full measurements of ingredients. 
Final Thoughts 
Oysters are a fun meal to have, and they are highly nutritious, packed with minerals, vitamins, and antioxidants. If you are new to the oyster game, you may benefit from trying some of these dressings, as they all complement this shellfish very well. 
If you've tried oysters but just don't enjoy them, it could be because you've not had them with a complimentary dressing like the ones on this list. 
They are all very easy to whip up yourself, so if you've got some oyster enthusiasts coming over, or just fancy throwing some on the barbecue (we highly recommend), then take your pick from this list, and be ready to impress your guests!