Oysters are the perfect ingredient for an appetizer that will impress all of your guests at your next dinner party. They are luxurious, flavoursome, and something that people won't often eat at home which makes them a special treat.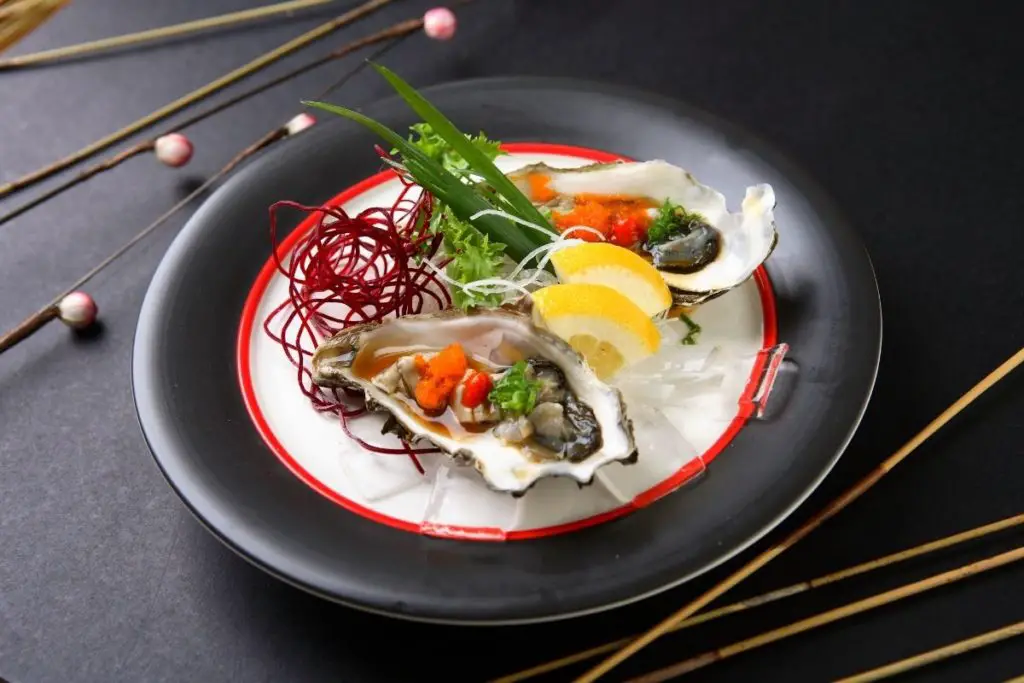 Oysters are surprisingly versatile and can be paired with lots of different flavours from various cuisines. This means that you can fit them in with whatever the theme of your dinner party is. 
If you are looking for an exciting oyster appetizer to introduce some decadent seafood to your next dinner party or gathering then keep reading!
We have put together a list of the 10 best oyster appetizer recipes that are easy to make, mouth wateringly tempting, and are certain to impress your guests. 
We are starting off the list with a recipe that couldn't really be more simple. Simply spread some whipped cream cheese onto the crackers, then top each one with a smoked oyster.
You can sprinkle them with fresh parsley or chopped green onions if you want to make them look more colorful with a garnish. You could also experiment with different flavours of cream cheese if you wanted to customize the recipe.
Smoked oysters should be available all year round, so you don't have to worry about finding fresh oysters. These appetizers look lovely arranged on a serving platter and will be a welcome addition to your menu. 
If you are hosting a dinner party then this oyster cioppino is a wonderful appetizer to serve to your guests. It is very sophisticated, packed full of flavour, but is light enough to ensure that your guests still have room for their main course.
The broth is made from clam juice, peeled tomatoes and white wine. It is flavoured with fresh flavours of onion and garlic, and dried herbs like bay leaves, basil and oregano. Red pepper flakes are used for a bit of a kick.
Oysters, shrimp and whote fish are cooked in butter and white wine along with shallots and onions then added to the broth. You can serve it with some crusty bread to mop up the delicious broth. 
If you are new to cooking with seafood or oysters then this recipe would be a good one to start with. It is simple and easy but produces a delightful appetizer that your guests will love.
Garlic butter is such a satisfying flavour that goes perfectly with these salty oysters. The whole thing takes only 25 minutes to make which gives you more time to spend entertaining your guests or preparing the main course.
The oysters are rich and flavoursome, and served in their half shells which looks very impressive. 
This is an indulgent appetizer that is perfect for parties, fancy functions, and events. They look incredible served on silver trays or arranged on a bed of rock salt, and go very well with a glass of champagne. They take 40 minutes to make, and they will definitely be the star of the evening.
Onions, peppers and celery are finely chopped and sauteed in bacon fat. They are added to the oysters which are flavoured with fresh lemon juice, worcestershire sauce and tabasco sauce and served in their half shells.
They are then topped with crispy bacon pieces. The result is a salty, savoury, zesty mouthful with interesting textures that is sure to impress.  
Frying oysters gives them a different texture and brings out different flavours. The richness of the fat cuts through the saltiness of the oysters, and the crunchy coating contrasts with their soft, creamy texture. These fried oysters have a very light coating of rice flour.
The sage is earthy yet aromatic, with fresh garlic for a strong but simple flavour. The salty bacon compliments the briny oysters and the result is a very well balanced taste. You can serve them with a hot mustard sauce, a light dressing or as they are.
This would make a really nice appetizer if you are serving a main dish with sage or bacon, as it would introduce those flavours to the palate in an interesting way. 
This appetizer is a lovely, seafood alternative to bruschetta or terrine on toast. The sourdough bread is toasted to give it a good crunch, then topped with a rich and creamy mixture of oysters and sauteed mushrooms and shallots.
No herbs are used- just the simple earthy flavour of the mushrooms and the saltiness of the oysters. The softness of the oysters and mushrooms contrasts with the crispy bread.
You can garnish them with thin shavings of raw mushroom if you want to give the appetizer a gourmet appearance, or you can sprinkle them with fresh parsley. The toast can be prepared an hour in advance.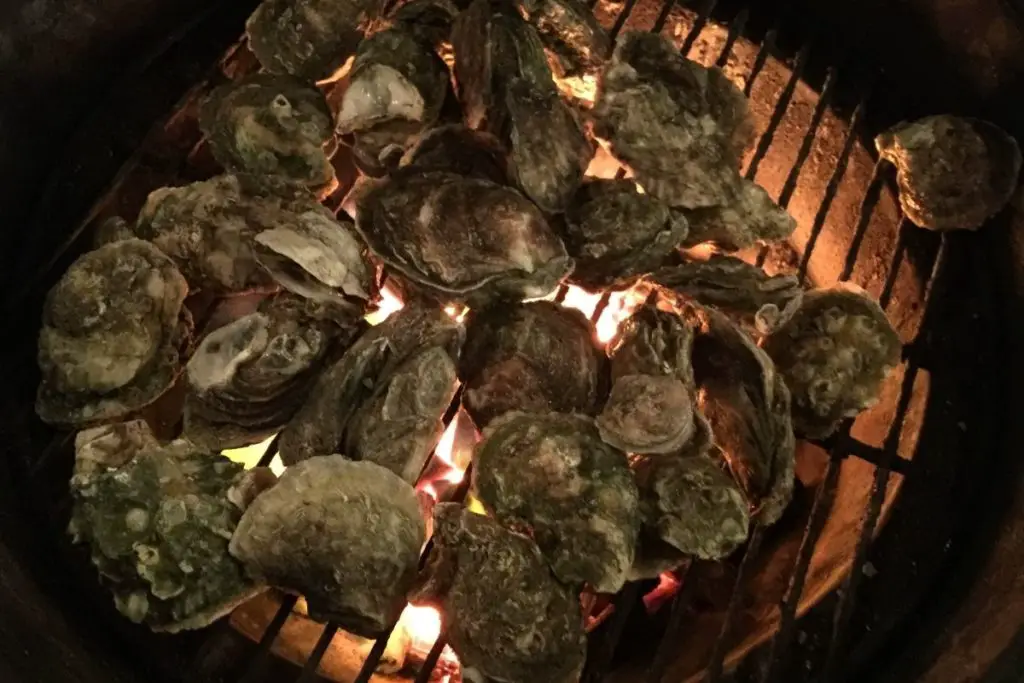 If you want to serve a starter with a bit of a kick then this recipe is ideal. You might not have thought to pair delicate oysters with strong flavours like chipotle and bourbon, but you will be surprised at how well this combination works.
If you are serving a Mexican inspired main course, or something with Southern flavours, then this appetizer will be an unusual but fitting way to kick off the meal.
The bourbon and chipotle flavours are combined in a butter that is added to the oysters before they are cooked in their half shells. The butter melts and mixes with the salty oysters to create punchy mouthfuls of perfect flavour. 
Perhaps you want to use your appetizer to introduce some fruity flavours to your guests- in which case this recipe for oysters with pomegranate and dill could be just what you are looking for.
This would be ideal if you are serving meat with fruit in your main dish, like duck and cherries, turkey and cranberry, or lamb and redcurrant. The pomegranate seeds add a lovely pop of color to the oysters which would look amazing if they were arranged on serving platters.
The flavours are fresh and simple- enough to interest your taste buds without overpowering the oysters. Fresh lemon juice, fruity pomegranate, herby dill and salty oysters – a winning combination. 
This recipe pairs the oysters with traditional Asian flavours of soy and sesame for an oriental style appetizer. If your main dish is inspired by Chinese, Thai, Japanese, Vietnamese or Korean cuisine then this appetizer would be a great choice.
The Asian dressing is light but punchy, with very savoury notes which go well with the saltiness of the oysters. The sesame is a welcome nutty element to the dish. 
Oysters Mignonette is a classic recipe with French origins. If you want something timeless and sophisticated for your dinner party then you can't go wrong with this recipe. It is so simple but the flavours work perfectly together – onion and vinegar.
Some recipes use fresh lemon juice but this one uses sunflower oil and crushed white peppercorns. If you love the taste of oysters as they are but want to add a simple dressing then this is the ideal recipe.