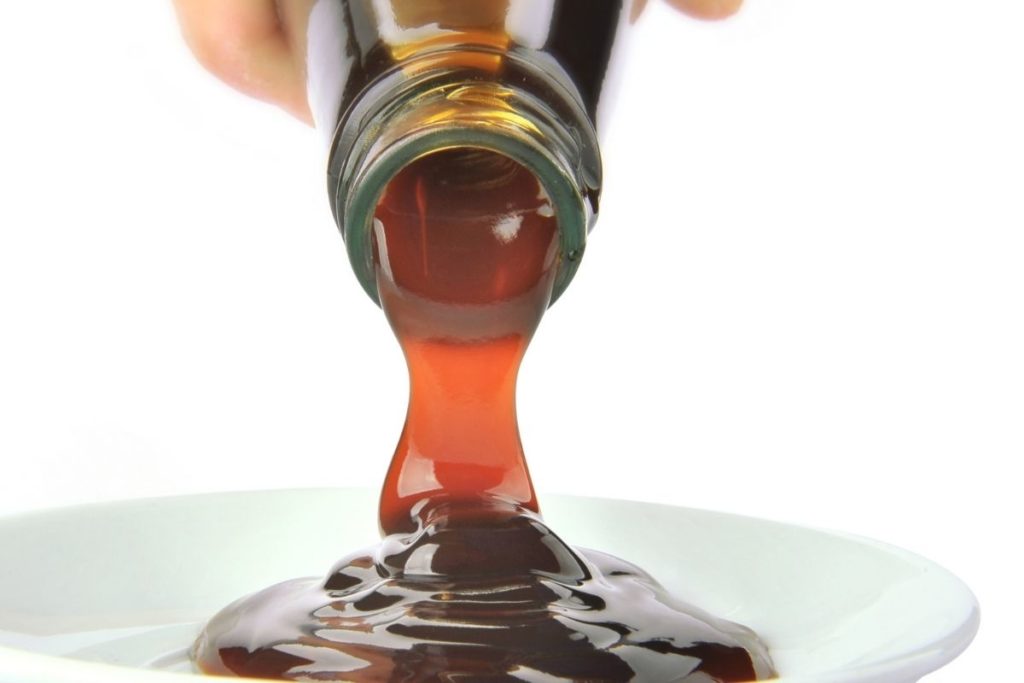 Oyster sauce is an ingredient often used in Asian cooking that is made from oyster extracts. It adds a savoury flavour to any dish and has a lovely dark color.
It is easy to get hold of from most grocery stores and is very versatile, so it is useful to keep in your cupboard. Here are the top 10 recipes that you can make using oyster sauce. 
This delicious and easy meal takes just over half an hour to make, including marinating the meat, and is perfect for those busy weeknights. You could also cook it as a side dish for part of a larger, Asian family feast.
It has a satisfying, savoury flavour with tender, juicy chicken. You can serve it with steamed rice, egg fried rice, noodles, or just plenty of fresh vegetables. It goes really well with baby sweetcorn, bamboo shoots, sliced carrots and broccoli.
Chicken breast or chicken thigh meat can be used for this recipe. If you want to customize the recipe then you can switch out the chicken for beef, pork, or shrimp. 
This one pan recipe creates a tasty meal in just half an hour that is healthier and cheaper than your favourite Chinese takeout. The beef is tender and has a caramelized flavour which contrasts with the savoury notes of the sauce.
It is up to you which cut of beef you use, but ribeye, sirloin and rump steaks are the most tender and don't need to be marinated for as long. If you want to use a cheaper cut of steak then make sure you give it an extra 5 to 10 minutes of marinating time.
The ginger gives this dish fragrant flavour which goes really well with the meat. This recipe uses choy sum for some green vegetables. You can also use pak choy, shredded cabbage, or any other green vegetables that you fancy. 
If you love succulent shrimp then you will really enjoy this recipe for shrimp in oyster sauce. It is simple and easy with a wonderfully balanced flavour- aromatic, tomatoes, savoury – all blended together perfectly.
The sauce is quite thick – it should cling to the shrimp rather than drown it – so make sure that the shrimp are well drained first. It is better to cook the shrimp in small batches rather than overcrowd them if you don't have a big pan, or the shells could end up going too hard.
There probably won't be any leftovers because it is so tasty, but if there are then you can store them in the fridge for up to three days in an airtight container. This meal is ready in less than half an hour.
You can serve it however you like, but it goes really well with rice- especially if cooked with vegetables. It also goes well with potatoes, or even some crusty bread. Why don't you try cooking these shrimp for your next surf and turf meal? 
If you have some pork mince in your fridge and you're not sure what to do with it then you should try this stir fry recipe. The meat is flavoured with oyster sauce, dark soy sauce and chilli so it is savoury with a bit of a spicy kick.
The meat is cooked until it is golden brown and begins to caramelize, giving it an intense and indulgent flavour. The fresh garlic adds a lovely, punchy taste and the Thai basil is fragrant, creating a perfect balance of flavours.
The wok is deglazed with water or stock that creates a light sauce for the meat. This dish is best served over a bed of fluffy jasmine rice, and some steamed or sauteed green vegetables.
If you prefer to cook with pork fillet instead of pork mince then try this recipe for Sesame Five Spice Pork with Oyster Sauce. 
Oyster sauce is great for more than just stir fries! The intensely savoury flavour is ideal for flavouring meat, When used as a marinade, it also helps to tenderise the meat. This recipe for perfectly grilled steaks uses a marinade made from oyster sauce, minced garlic and fresh rosemary.
The ribeye steaks are left to marinade for 15 minutes, though you can leave them for even longer if you have the time.
They are grilled in a hot pan until they are medium- this is the perfect way to cook ribeye as the fat begins to melt into the meat to make it even more flavoursome and juicy.
You can serve this steak with grilled vegetables, or you can saute the vegetables in a bit of oyster sauce or some of the marinade leftover from the meat. 
Teriyaki chicken is a classic Japanese dish that is very easy to make at home. This recipe marinades the meat to ensure that it is juicy and packed with flavour, then the meat is pan grilled to give it those delicious charred edges.
You can make the marinade and the sauce ahead of time if you want to so there is less to do when you get home from work.
With savoury oyster sauce, fragrant ginger, and sweet honey, this dish is perfectly balanced and has a distinctive Asian flavour.
Traditionally, this dish would be served with sticky rice and plenty of vegetables. You can serve it however you like – with chips, noodles, or even as a snack or as part of a BBQ. 
Salmon is a very versatile fish that can handle lots of different flavours. This recipe uses Asian flavours to create a delicious salmon meal with only 5 simple ingredients – ginger, garlic, oyster sauce, sweet chilli sauce and soy sauce.
You will be surprised at how flavoursome this salmon is, even though the recipe is simple and very easy to make.
It only takes 15 minutes to put together this succulent, tasty salmon. You can serve it with steamed rice and sauteed bok choy or Asian greens for an easy midweek meal that is incredibly satisfying. 
This recipe teaches you how to make a perfect squid stir fry. The squid is tender with a little bit of bounce- just how squid should be when it is cooked properly. The sauce is savoury with just a hint of sweetness to make it well balanced.
The ginger adds a fragrant, aromatic flavour with the punchy garlic and green onion to counteract this. Red and green bell peppers add a lovely crunchy texture and fresh flavours, as well as vibrant colors which look attractive on your plate.
It is recommended to serve this dish with some fluffy steamed rice so you can soak up some of the sauce.
Using oyster sauce is a great way to add some extra flavour to your scrambled eggs. Serve them on toast for an extra special breakfast. If you prefer fried eggs, then try this recipe for Fried Eggs with Oyster Sauce which is lovely enjoyed on it's own or as a garnish for a stir fry, noodles, Asian soup or ramen. 
This recipe for fried rice uses oyster sauce to add some extra flavour. It takes only 20 minutes to make this rice which is perfectly cooked and packed with healthy vegetables. You can enjoy it on it's own or on the side of a stir fry.