Oyster farming has become a huge source of tourism and national interest in recent years. This is mainly because of the increased concerns over our food's environmental impact.
The demand for more sustainable methods of putting food on the table has forced oyster farms to find ways to protect wild species and secure a consistent source of revenue for them and the local community.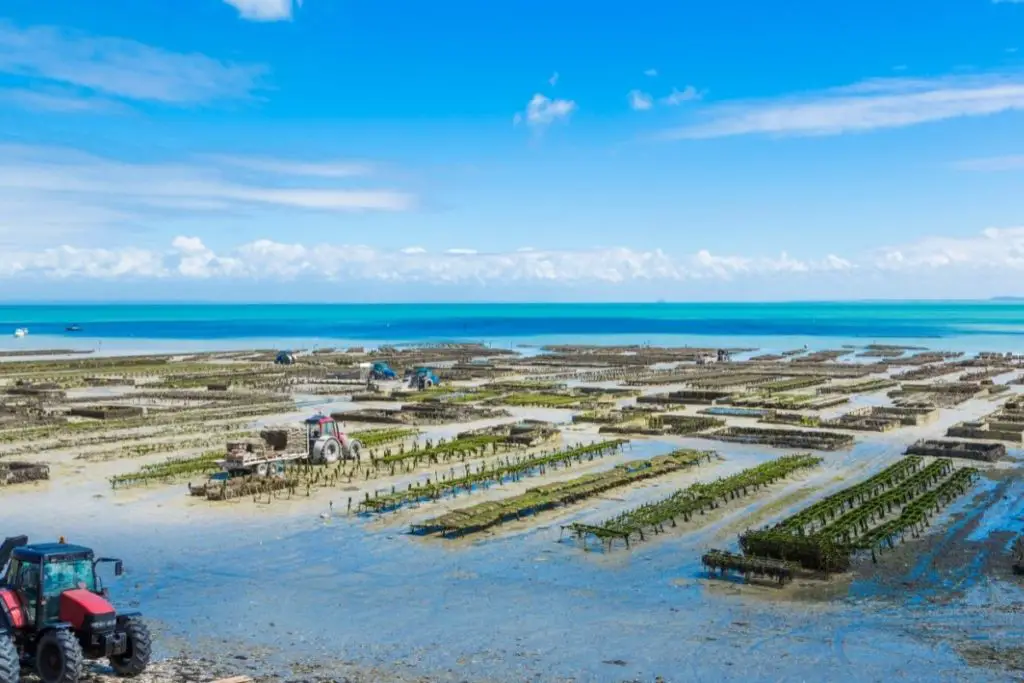 Because of this, more people than ever before are interested in visiting an oyster farm to see how the unique tasting molluscs are farmed and how different climates can impact the flavor profile.
This is a complete guide into oyster farm travel so that you can plan your next environmentally conscious and educational visit to an oyster farm near you. 
It is worth acknowledging that there are two main types of oysters discussed in this guide. These are Eastern oysters, which are native to America along the Atlantic coast, and Western oysters.
Eastern oysters are usually oval shaped, with smooth edges and an outer shell that can be white or a slightly brown color. West Coast oysters are a little more creamy and buttery in taste, but they are both worth tasting to see for yourself.
Best Oyster Farms By State 
Firstly, there are so many oyster farms that are currently offering tours, experiences, and unique interactions, that it is worth finding one local to you. 
The more eager oyster fanatic could plan a trip to visit multiple states at once, but the more environmentally conscious may enjoy spending less time traveling and making the most out of local resources.
These are some of the best oyster farms across the country that are definitely worth paying a visit. 
In spite of their name, the oysters that are grown within the Mexican Gulf have a delicate taste and flavor profile.
Located in Bayou La Batre, murder point is definitely worth a visit purely for their petite, buttery tasting oysters. They are cultivated using Australian methods, and provide useful tips on how to prepare them at home.
While they do not supply to the public, Pelican Reef is worth contacting if you are in the area to see if you could arrange a tour or even a tasting session. Found in Cedar Key, these oysters are salty yet creamy, and the flat shell makes them much easier to shuck.
Located in Townsend, this is the oldest clam farm in Georgia that has the perfect oysters for roasting.
Partly because of the challenging regulations, and also because of the increased demand for sustainable oysters, the owner of Sapelo Sea Farms has taken a sustainable approach to his work and farming methods.
Grand Isle Sea Farms are another location to offer sustainably grown oysters with a classic taste to visitors. The southern belle oysters are collected in floating cages and this experience will leave you coming back for more.
The sweet Jesus oysters are grown by the Hollywood Oyster Company, who work hard to maintain the subtle sweetness of the meat. They are extremely tasty and have also been reported to have hints of mossy flavor.
Found in the waters around Deer Island, French hermit oysters are mild, clean, and have earthy undertones. These oysters can be purchased directly from the website, or found in a selection of local restaurants.
Known for their slightly sweet taste and low minerality, Sea Level Salts are sold and grown by Morris Family Shellfish Farms. Not only do they supply local restaurants, but their oysters can be found in Lookout Grocery store, NC.
Sold by Lady's Island Oysters, these are deep cupped, and have a distinct clean taste which is brought out by the Atlantic waters that they grow in. The taste goes from sweet to salty, and will definitely leave you wanting more.
Also known as rare Elm Grove ruffles, these oysters have an impressive size and are a little more challenging to find.
However, they are certainly worth the time and effort spent searching for them, as they have a unique firmness and complex taste that pairs well with crunchy bread or chargrilling.
With hints of honeydew, these oysters can be found in Cape Charles from wholesalers in Cherrystone Aqua Farms. They are passionate about their products and what they do, and it is definitely worth contacting them if you are in the area and want to arrange a delivery or a tasting.
How To Travel
There are a selection of options to choose from when you are planning your oyster farm visit. Depending on where you live, and the proximity to a particular oyster farm, you could plan a day trip, or allow for multiple stops if you want to do a more comprehensive tour. The Virginia oyster trail is an example of a multi-stop route that many tourists have already taken advantage of. 
The great thing about planning an oyster farm visit is that the trip can be as long or short as you like. This means that those who plan on traveling larger distances could make the most out of their money by scheduling multiple tours or experiences within the duration of the trip. 
While those that live closer to a particular oyster farm may prefer to travel using their car, SUV, or public transport, people who live further away could book flights to save time on the road. Some oyster farms that are more interactive may also offer boat trips to specific areas where the oysters grow, or to a remote island for an exclusive tasting session. 
In addition, more and more farms are beginning to offer their visitors a more personal experience which includes arranging transport from their hotel or accommodation. This is another selling point worth considering when you are booking your trip, as it will be included in the total price of your experience. 
What To Look For 
Because recent years have seen a boom in demand for oyster farms and tourist attractions, there are a range of additional features that are worth looking out for when you are booking your trip. These include more immersive sessions with farmers who provide shucking lessons to adults and children. 
Make sure you are asking about oystering communities locally so that you are sure of what to look for before booking a visit to a specific oyster farm. This can help you learn ways of protecting wild oyster species and avoid spending money on something that is less sustainable. 
Depending on the size of your group when you are scheduling a visit, you could find an oyster farm that offers private tours. Another way to compare your options is whether a particular venue or farm offers land or water-based experiences. Become completely immersed into the oysters' environment and growing conditions by putting on some waders and getting your hands dirty. 
For a more authentic experience that you are bound to remember for many years, consider looking for hands-on tasting and farming experiences straight from the water. This can be done using kayak tours, raw bars, or wading into the water where they are growing. 
Make sure you are looking for something exciting and immersive that suits your personality and preferences. There are more options available than ever before in terms of oyster farming tourist attractions, so there is bound to be something that is right for you. 
When To Go
Make sure you are aware of the different experiences that are determined by the weather conditions, and that you know what to expect when you schedule a trip during the off-peak tourism season.
With that said, many oyster farms can be visited all year round. You may find that there are less visitors, which allows you to get a more personal experience. 
The main drawback of visiting away from the peak season is that there could be fewer oysters to try in general. For that reason, it is recommended that you do your own research specific to the region you are looking to visit to see what type of oysters can be found at that time of year. 
The warmer months are ideal if you want to make a longer trip out of it, but it can be fun to visit an oyster farm during the off-peak season in the winter. As a general rule, the main season where oysters are typically more abundant is between June and September.
However, in areas like Maine, Massachusetts, New England, and California, oysters are grown in higher numbers between May and October. 
What To Take
Because people plan a trip to visit oyster farms all over the country, it is important that you are ready for different kinds of weather patterns. This means preparing ahead of time by checking the weather predictions, estimated temperature range, and what type of activities you have planned.
Try to pack accordingly and make sure that you have the right gear for the different oyster experiences that you have booked.
For those who want to spend time up close to the oysters and see how they grow, it is recommended that you invest in some high quality, reliable waterproof waders. These prevent you from becoming completely soaked through while protecting you from some of the chillier temperatures. 
Another way to protect yourself and your group from colder weather conditions is to wear fitted clothes underneath your waders. This acts as an insulating layer to keep you warm and prevent your internal temperature from dropping excessively. 
Preparing for the weather is essential, and it could be a useful idea to have a backup plan for unusual weather conditions that is based indoors. 
Of course, if you are planning to visit an oyster farm during the warmer months, then it is a great idea to bring a hat and water bottle to keep yourself hydrated and protected from the sun. This can allow you to spend more time focusing on the trip without worrying about excessive amounts of sun exposure. 
Looking For Accomodation
Because everybody has different needs and the area that they want to visit varies with other tourist attractions and the state that you live in, it can be difficult to create a bulletproof guide for accommodation.
However, these are some of the key features worth considering when you are looking for accommodation during your visit to oyster farms. 
Whether you want to travel in style and book a premium hotel, or if you are fine staying in a hostel for a couple of nights, it is worth keeping the following points in mind before booking. 
Transport Included
For experiences that offer a transport service, there is usually a limit to the distance from their base that this will apply to. Because of this, it could be worth searching for accommodation within this range, or trying to find a place to stay that is close to a public transport link. 
It is also worth considering transport if the particular oyster farm is an interest for many of your friends and family members, which means that there is a larger group of people to organize.
Take this into consideration ahead of time so that you can decide what type of accommodation, and regular transport methods to plan in order to get everyone to the destination.
Proximity 
Try to find a place that is relatively central between the different attractions and oyster farms that you want to visit. That way, it can act as a base to stop at between activities, while making sure that you can easily collect something if needed during the day. 
You should also consider the proximity to local restaurants that prepare and serve your favorite oysters from the area. This can allow you to get a new range of tasting experiences during your stay, and even give you some inspiration for dishes in the future. 
Affordable
Some people stay with family living in the area, which can be a great way to reduce costs overall. However, this isn't always an option for others.
For that reason, it is worth taking the total price of a hotel, hostel, bed and breakfast, or motel into account. This can help you stick to your budget and ensure that you find something that works for you. 
Recommended 
Depending on the type of oyster farm attraction you have planned, you could contact the owners ahead of time and ask if they had any suggestions for accommodation.
Whether they have previous experience staying there, or if their previous visitors recommended a particular place, this can be a highly useful resource when you are planning your trip. 
Frequently Asked Questions
How Many Oyster Farms Are There?
Currently, there are more than 2,500 oyster farms in America. The majority of our homegrown oysters are used in local restaurants, home delivery services, and other tourist attractions such as tasting experiences.
One of the highest producing states for oysters is Louisiana, and the diverse waters surrounding the country have widely been argued to give French oysters a run for their money.
Do You Have To Shuck Oysters?
Yes, this is the way of prying open the shell to reveal the juicy meat inside. There is definitely a level of skill that goes into this, and the use of a sharp knife means that injury is more likely if done incorrectly.
Make sure you are confident with the process before purchasing oysters. You can pre-shuck oysters, although they taste best when they are done just before eating. This gives them an extremely fresh taste and aroma. 
A way of avoiding shucking is to put your oysters on the grill. Heating them up encourages them to open, which prevents possible injury caused by the prying process. Your oysters will open up once they are ready to be eaten. 
Do You Chew Oysters?
You definitely should, as they are not meant to be swallowed whole. This can make you lose out on some of the unique flavors that the meat has to offer.
It is generally recommended that you savor the oyster rather than knocking it back in order to really enjoy it. Bite into it to release some of the hidden juices. It is also important to sip the liquor or brine that it sits in, because this is full of flavor too. 
Summary
There are so many things to keep in mind when it comes to oyster farms, and planning your next trip to a local or distant region in order to achieve a fascinating experience that is authentic and sustainable. 
Make sure you have carefully researched and compared the different attractions, and that you are planning your visit based on other interests within a particular city or state. This can allow you to make the most out of your experience, and even encourage you to have a greater appreciation for the great taste of oysters. 
Have a wonderful time exploring the many oyster farms across the country, and enjoying what they have to offer.