Oysters are one of the most delicious and versatile foods on earth, but they can be intimidating to cook, or should we say to serve?
They're delicate little bivalves that need to be shucked immediately before serving and preferably bought on the day you intend to serve them too.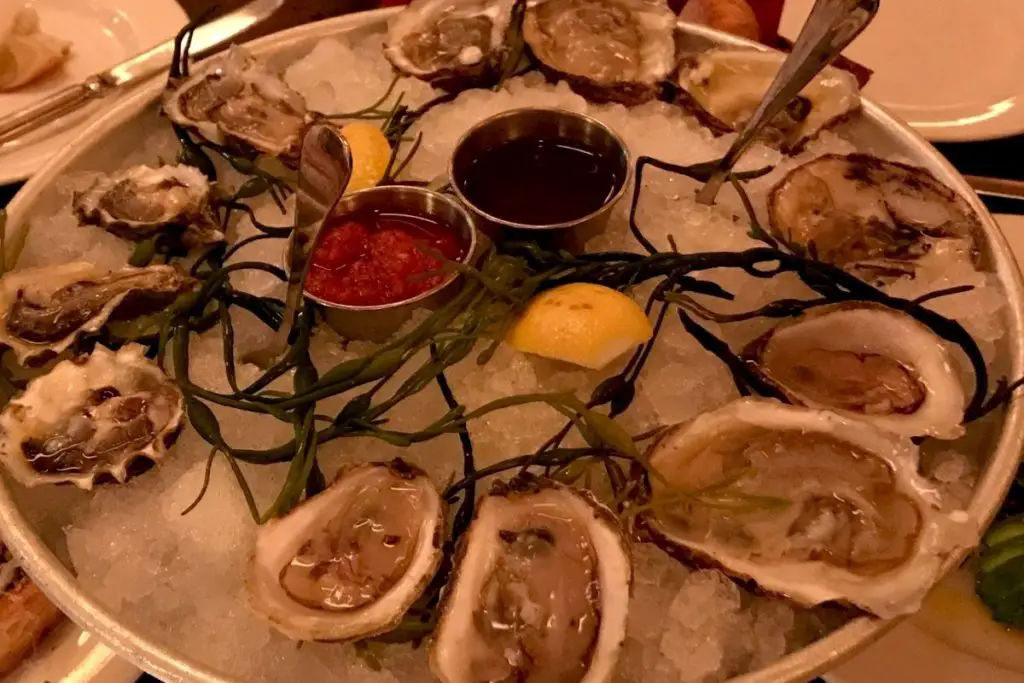 And once you do open them, they can go bad in about an hour, so wastage can be a concern for the domestic god or goddess looking to deliver an impressive dish to the dinner table.
Despite the fuss and bother we've mentioned, they are a savored delicacy that is immensely popular all over the world.
Apart from perhaps Raw Oysters or Oysters Rockefeller, Oyster Mignonette is one of the most famous oyster dishes out there and it is surprisingly easy to make at home. The key is to make sure your raw ingredients are as good as they can possibly be. 
We especially mean oysters, because if they aren't good, then no amount of delicious sauce is going to cover that up.
Although the classic Mignonette sauce is a combination of just three ingredients, there are many variations on that theme that might just take the top spot for your favorite oyster recipe. Here are a few of the best Oyster Mignonette recipes we've found. 
This is a classic accompaniment to fresh oysters. A traditional mignonette is a combination of red wine vinegar, minced shallots, and ground black pepper and that is precisely what we have here. 
Some people recommend grating the shallots instead of mincing them and some suggest making the sauce the night before you intend to serve it to let the flavors "get used to each other". This recipe should make enough mignonette sauce to drizzle over around twelve fresh oysters. 
While the first recipe was fairly basic, this one is a little more complex. This recipe contains six ingredients and it specifies that the sauce should be marinated for at least four hours.
Many people like to add just a touch of sugar to their mignonette to balance out the briny taste of some oysters, but this is a personal preference. 
Some recipes include sugar, and others don't, but it's up to you. One thing that is interesting about this recipe is that it specifies white pepper and a combination of white wine vinegar and rice vinegar to make up the sauce.
If you're not a fan of pepper with your seafood, then you might like to try this recipe from the Wright Brothers that dispenses with pepper, either black or white completely. Instead, this recipe contains only two ingredients for the sauce with a third optional extra of dry white wine. 
This recipe does not give a time limit on the marination process but it does recommend making it a "few hours beforehand for the flavors to come together" and it will do for a dozen oysters.
Seafood expert Rick Stein has inspired this recipe for a Mediterranean-style vinaigrette sauce. This recipe is especially good for more briny oysters from areas where there is a higher saline content in the water. 
This recipe specifies that you use a good quality white wine vinegar, sunflower oil, coarsely crushed white peppercorns, and scallion tips, thinly sliced.
Using scallions instead of shallots will give this mignonette a different flavor and might be ideal for a zingy al fresco dish served in the warmer months. We do love a bit of fresh scallion, so this sounds like a great alternative to other classic mignonette sauces. 
With this being said, it is usually believed that the best time to enjoy fresh oysters is during the fall and winter months. Or as Rick Stein says,
oysters are at their best in any month with an "R" in its name. He would be referring to British oysters though so it doesn't necessarily follow that we can't enjoy a summertime oyster over here. 
This recipe is fairly standard as far as mignonette sauces go, but with a difference or two. The ingredients list says you could substitute finely chopped shallots for sweet onions and can use either white or black peppercorns (but not both?), and either white or red wine vinegar. 
This is the most free-wheeling recipe so far. It kind of says to us that you should just use whatever you want for it to taste good, and what else is there to culinary science really? 
One reviewer of this recipe said they used this sauce over buttermilk fried oysters and loved it. That's an interesting American twist on a classic French dish.
If you're not sure if all your guests are going to be comfortable with a raw oyster slurping session, then fried oysters would surely be a novel alternative appetizer at a dinner party.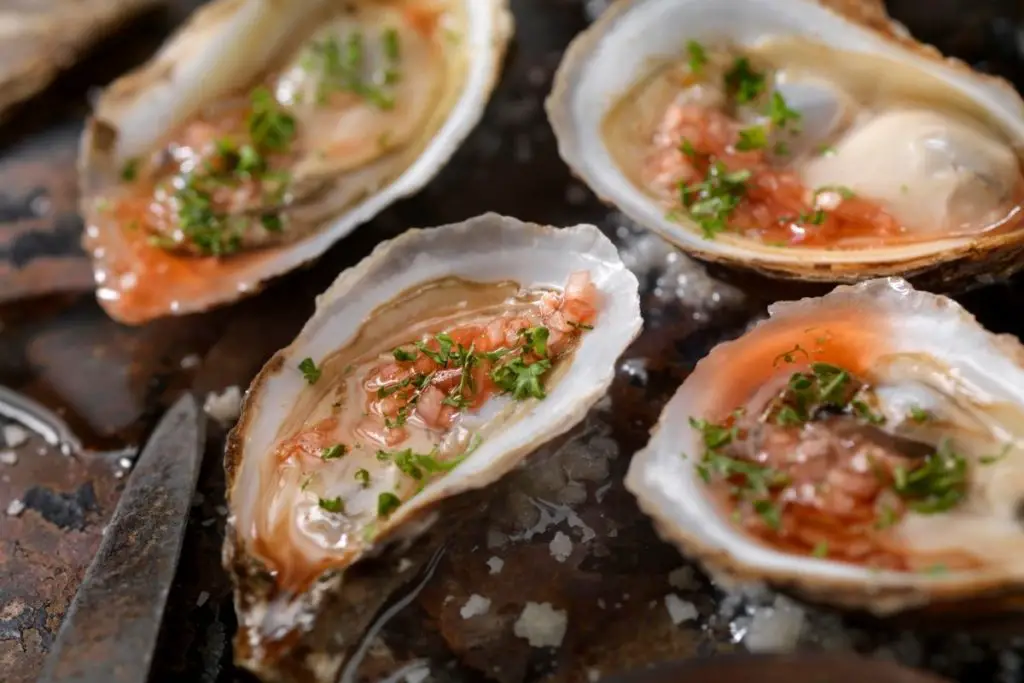 For a fancy oyster dish that's going to have the wow factor, dress your oysters to impress with a champagne and strawberry mignonette.
Oysters are so good for you, they're elegant and they can usually be locally sourced if you live near water, but despite this, for most of us, oysters are a treat rather than a weekly item on our menus. 
So when you get your paws on a dozen oysters, it's a great idea to really dress them up to the nines with some decadent ingredients.
Some oyster connoisseurs would say that oysters don't need more than a splash of vinegar or lemon, but if you want to try something different, then step this way. 
Strawberries provide a little sweetness to balance out the natural saltiness of oysters and instead of red wine vinegar for the mignonette, this recipe suggests champagne vinegar. If you can't find that in your local grocery store, you can use white wine vinegar instead though. 
This recipe still includes all the traditional ingredients of a mignonette such as vinegar, shallots, and black pepper, but with the addition of some fresh strawberries.
This recipe recommends serving after just five minutes of letting the flavors marry and we rather agree. Overnight, mushy strawberries aren't going to look all that appetizing. 
This recipe is a little specific for the casual chef, but anyone who can get their hands on the specified ingredients will be able to make this recipe work.
Yes, shallots are still specified as a key ingredient in this recipe, but an Asian red eschalot is the one to use according to delicious.com. 
Similarly, red wine vinegar is the usual choice for mignonette and so it is in this recipe, but specifically an aged Cabernet Merlot vinegar. Best of luck finding that in the supermarket.
Now, there are a couple of twists on the classic mignonette. Firstly there is no pepper, black, or otherwise included in this recipe, but there are salt flakes instead.
Then they suggest using snow pea tendrils to serve with the oysters. Well, it will certainly be a fancy dish that will impress and that will give you a lot to talk about with your dinner companions. 
We like the idea of using pea shoots to garnish spring dishes, but then again if left on the plant, they could have turned into peas or sugar snaps. So we're not sure about the necessity or practicality of using these, especially if they are just for decoration. Each to their own.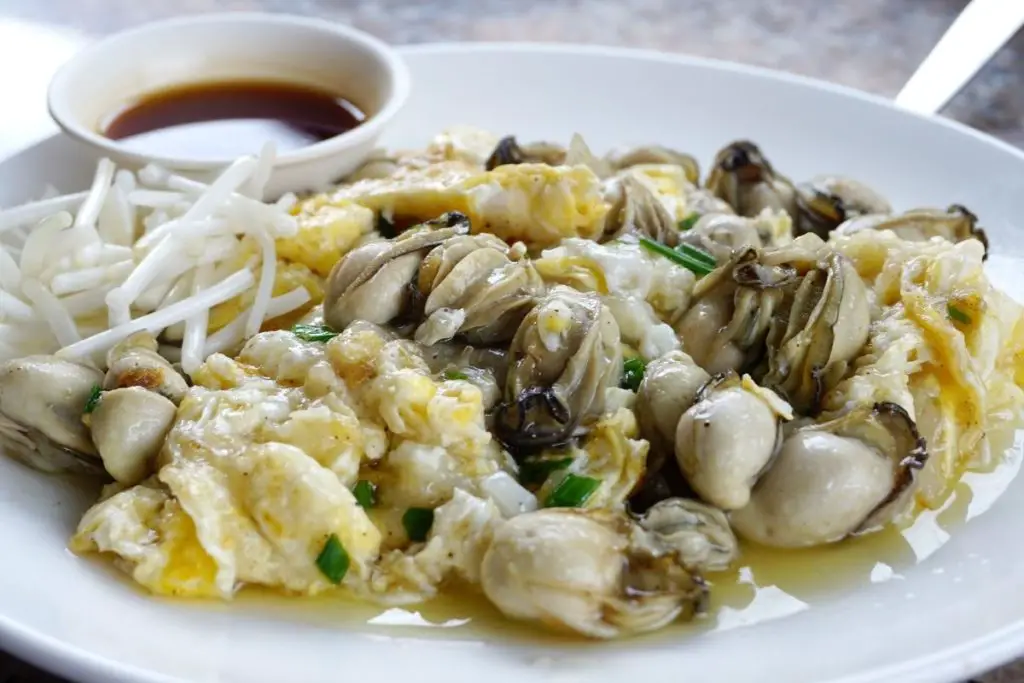 If you're looking for a visually pleasing oyster platter idea for a party or event, then the domestic goddess Martha Stewart has got your back. Be aware that this recipe will do for 36 oysters so if you want a smaller portion, then you'll need to calculate down the ratios.
The key to this recipe is the teaspoon of gelatin to give the oysters fresh from the ocean sheen. Other than that it is a fairly traditional recipe of mignonette with a generous splash of champagne vinegar in addition to the usual red wine vinegar.
This Martha Stewart recipe suggests that you serve the oysters with lemon wedges and horseradish. 
This is something special for the holiday period or a special celebration. This Martha Stewart recipe uses equal parts of red wine vinegar and champagne vinegar, plus pink and green peppercorns and lightly toasted fennel seeds.
This extra-special mignonette is probably a little too much fuss for a weekday meal with the kids, but for a party or occasion worthy of some effort, then this will fit the bill.
We think most of the actual effort involved in this recipe will be in trying to source the specified ingredients. If the main reason why you like Oyster Mignonette is that it is simple and quick, then this might not be the best recipe on our list for you. 
Be aware that if you do try this one, Martha Stewart is the queen of entertaining and party planning, so just remember that these quantities are for two dozen oysters.
If zesty and savory are how you like your oysters, then you might want to try this simple mignonette with a tasty twist. It's not a traditional recipe by any means,
as it contains no shallots, no peppercorns, nor any vinegar. So how is it a mignonette? Well, in the way that it is an acidic liquid that tastes great on oysters.
Whether, or not, the French would say this can be referred to as a mignonette, it will certainly be a hit with your dinner guests. Call it what you like. 
It's super simple and contains only three ingredients: Boiling water, fresh rosemary leaves, and freshly squeezed lemon juice. It will taste the best if it is allowed to sit for at least 30 minutes to an hour before serving, and that's it. Fresh, simple, and delicious. 
Final Thoughts
If you haven't ever served so much as a single fresh oyster before in your life and are nervous about getting it right, then you won't be the only one.
Plenty of people are anxious about serving seafood at their events or dinner parties, and yet oysters require no cooking at all. 
The key to serving perfect oysters is to serve fresh oysters. As fresh as you can get them.
The best advice we can give you to enable you to serve your oysters confidently is to buy them fresh on the day of, or the day before the event, and shuck them just before serving.
Make sure you check that there are no shell fragments spoiling the meat of the oyster and serve them in their half shell. 
Arrange the oysters on a shallow dish of ice chips and put your dressing in a ramekin or small dish and a teaspoon for serving it with them.
That way your guests can help themselves to the mignonette or not as they like. Dinner party success achieved.