Oysters Rockefeller are baked oyster shells with a tasty butter sauce, finely chopped baby spinach, and bread crumbs. The original recipe calls for fresh herbs as well,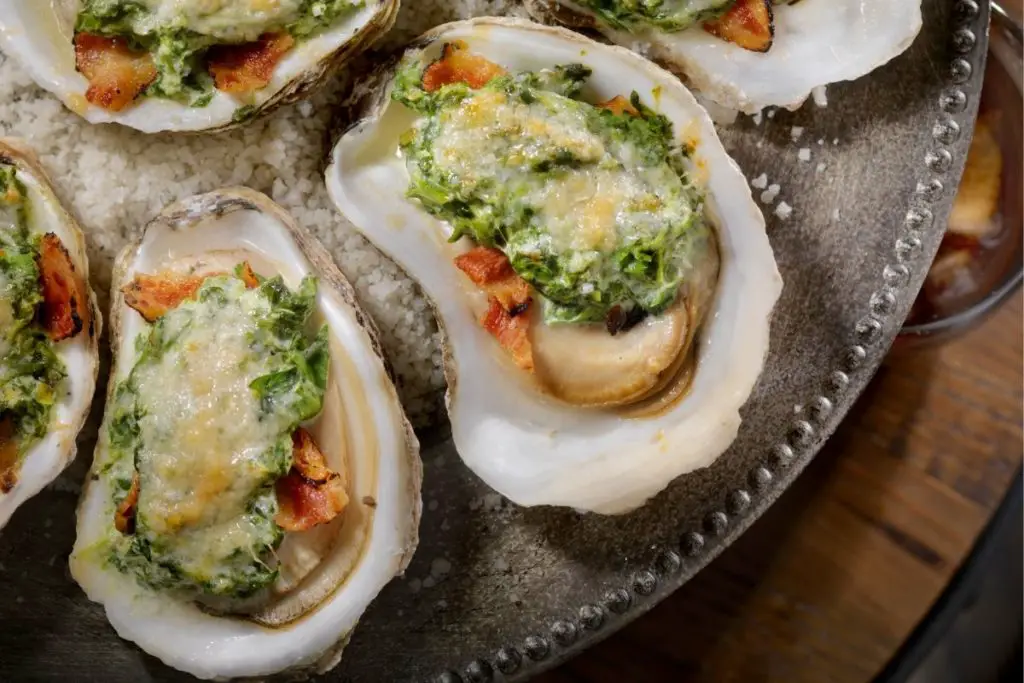 which can also be used instead of spinach if you are someone who dislikes spinach intensely. Even though it is a fairly simple dish to create, it is delicate on the palate and presents a sophisticated taste.
The recipe was originally created by the world-famous Antoine's, a family-run restaurant in New Orleans that opened all the way back in 1840. The dish itself came to be nearly 50 years after the restaurant was opened. 
At the time, snails used for escargot were hard to come by and so oysters were used instead. There are many theories as to how the dish got its name,
but it is rumored to be named after the wealthiest American of all time, John D. Rockefeller because the buttery sauce of the dish makes it an extremely rich dish. 
How Do You Make Oysters Rockefeller?
Although the list of ingredients vary from recipe to recipe, (the original recipe from Antoine's is still top secret) the general list of ingredients will include some of the following ingredients:
Unsalted Butter
Shallot
Garlic
Fresh Spinach
Fresh Herbs Like Parsley.
Vermouth
Cheese such as Grated Parmesan
Crumbled Bacon
Panko Breadcrumbs
Raw Oysters, Shucked
Lemon Juice (From Wedges, For Serving)
Other ingredients that you may choose to include in the creation of Oyster Rockefeller recipes are hot sauce, ground black pepper, green onions, celery, watercress or even arugula. 
Instead of the bacon, some recipes call for the inclusion of crab or other seafood ingredients like shrimp or salmon mousse, depending.
To increase the decadence of the dish, you could add some heavy cream which will cook down and create a more creamy texture of the topping, paired with the crispy and crunchy breadcrumbs.
Shucked oysters are the main ingredient. Most of the time, oysters are bought pre-shucked, and you will need a shucking knife to open them up, however, if you are lucky, you can sometimes find shucked oysters. 
Once they are shucked, a topping should be made with the shallots, garlic, butter, spinach, and herbs mixed in with a cheese of some sort. This is then put on top of the oyster and sprinkled with buttery breadcrumbs.
The oysters are then put on a baking tray and then baked, broiled or grilled, depending on the recipe and your preference. Place them on a baking tray and bake them. Grilled oysters taste delicious when made this way too.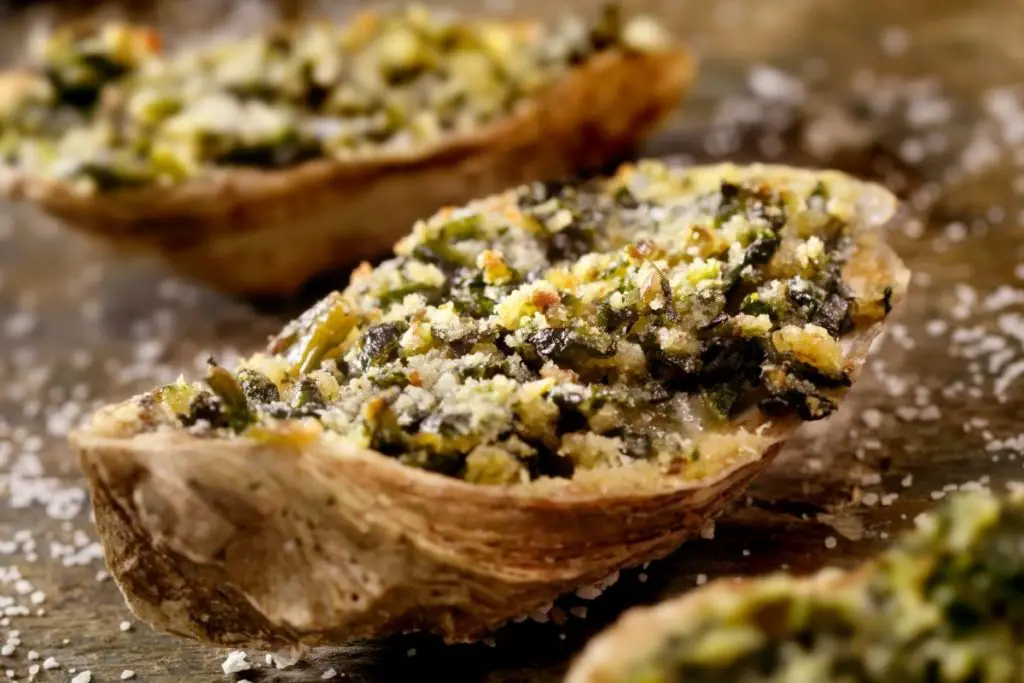 You can even use just the oyster themselves (usually frozen) and place them in a shallow dish and top with the mixture. Although this tastes just as good,
it won't look as refined or as sophisticated as when they are served in the shells, and when they are served in the shells they can become the perfect appetizers or canapés.
The 10 Best Oyster Rockefeller Recipes
This recipe from Taste of Home uses a white onion that is cooked down in a lot of butter, until translucent, the spinach and Romano cheese is added and then baked on a bed of salt until cooked.
The salt bed brings out the flavor of the oysters and what is more, this recipe excludes the use of breadcrumbs so is gluten-free. 
This variation of the recipe calls for you to boil the oysters in beer and some spices and garlic until they open up, instead of shucking them.
The topping is essentially a three cheese sauce using mozzarella, Monterey jack and fontina cheese with some spinach, topped with breadcrumbs and then baked until golden brown.
Here, epicurious uses a combination of watercress, spinach, green onions which are processed into a pesto-like consistency. The topping is finished off with a mix of buttered breadcrumbs, fennel seeds and hot sauce along with a topping of grated Parmesan cheese. Yum!
This more classical approach to Oysters Rockefeller creates a spinach and onion cheese sauce, which is cooled down before being placed on top of the shucked oysters. This is topped with Panko breadcrumbs and baked in a preheated oven until golden brown. 
A greener version of Oysters Rockefeller includes quite a lot of spinach, fresh parsley and green onions which are added to lemon juice, butter, and Pernod and processed until finely chopped.
This mixture is then stirred into the breadcrumbs, Parmesan cheese and olive oil and put on top of the oysters which are then baked on a bed of salt.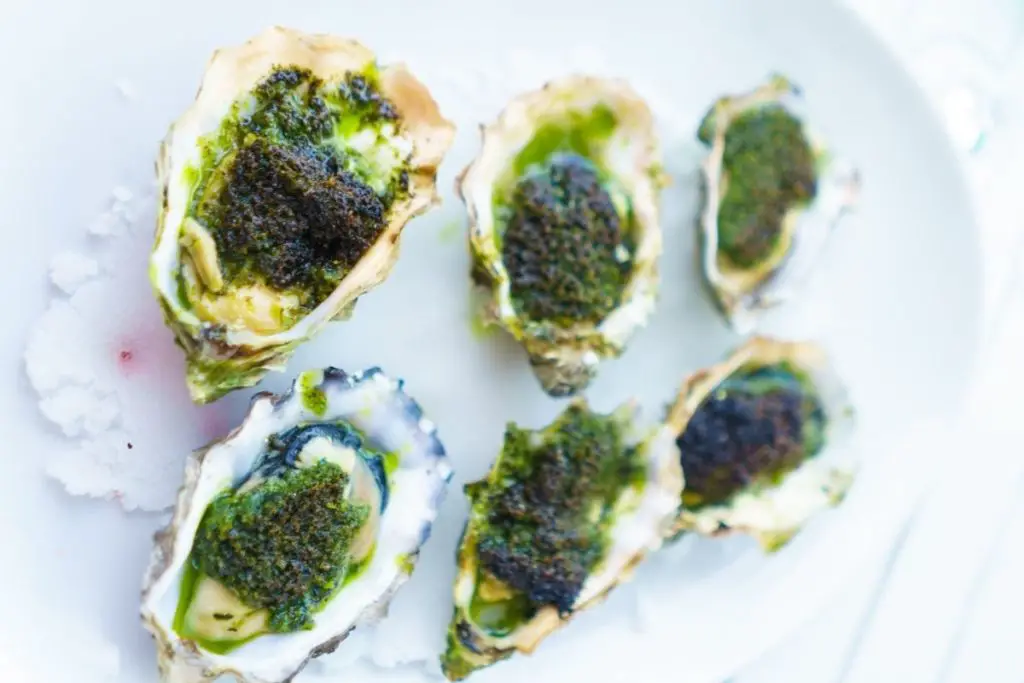 This delectable version of the classic appetizer includes a lot of bacon and hot sauce (add more if you are feeling spicy) to give it that extra richness and heat with every mouthful. It is also baked on a salt bed to accentuate the flavor of the oysters. 
Another bacon inclusion with this recipe. The bacon is fried beforehand to get extra crispy and makes the finished product crispy and crunchy with the added buttery texture of the topping and the oysters themselves-give it a try, it is super easy to make!
Caroline's cooking paves the way for making the recipe a little less rich, while still packed with flavor. This is achieved by using a lot more greens and a lot less butter and cheese (without the sacrifice of flavor) and is baked with parsley and lemon on the side for extra aromatics and flavor. 
The inclusion of Worcestershire sauce and hot sauce is pure genius from thespruceEats. Worcestershire sauce can be found at specialist delis or grocery stores and just uplifts the dish by adding a tangy sweetness to the finished dish.
The rest of the recipe follows the classic methodology and ingredients that one would expect to see in Oysters Rockefeller.
Jamie Oliver has done it again-taken a classic and turned it on its head while packing it full of flavor. His recipe includes the use of celery, green onions,
hot sauce and a herb called tarragon. Tarragon has a licorice or anise type of taste, which gives this dish a distinct and subtle flavor profile. 
This simple recipe recommends using blanched baby spinach and using quite a bit of garlic and hot sauce to complete the flavor of the dish.
They also recommend using the freshest oysters you can find, but if you can't find any oysters that are fresh from the farm, try to use frozen-the results will be similar, but the flavor of the fresh oysters are just a lot better. 
FAQ
How Long Can You Keep Your Oysters Before Eating? 
The fresher, the better. If they are kept extremely cold (not frozen) then you can easily stretch their shelf life by a few weeks from harvest date, not purchase date, before they must be eaten.
However, when using fresh oysters it is best to eat them as soon as you can to avoid any food safety or quality incidents. 
Can The Oysters Rockefeller Be frozen?
They freeze quite well. It is best to freeze them after adding on the topping. Once they have frozen solid, they can be kept in a freezer bag for up to 6 weeks.