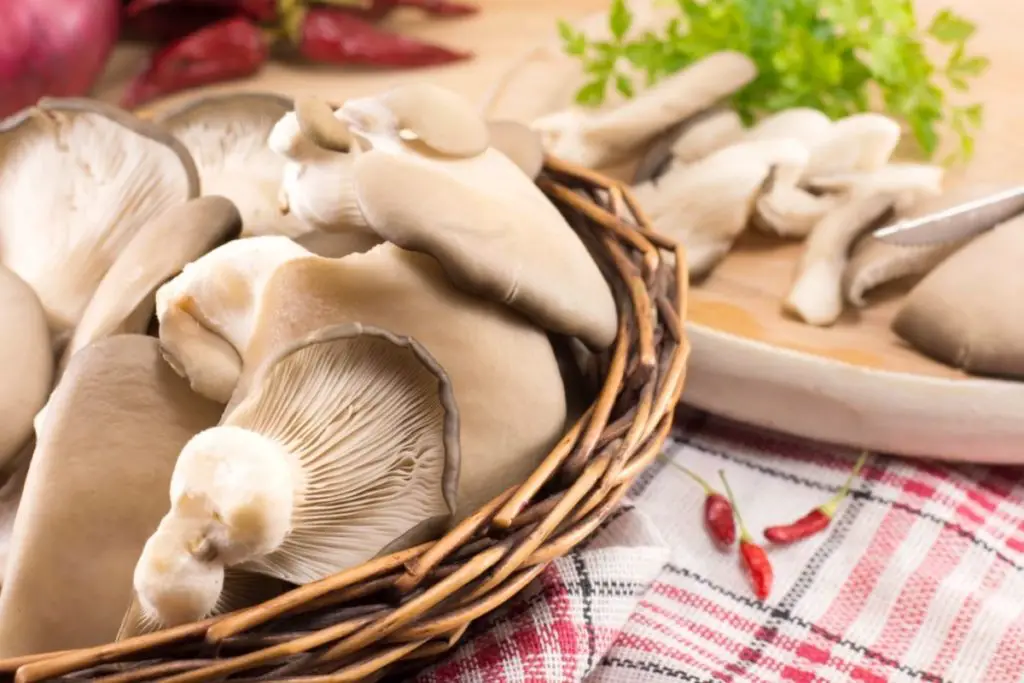 Oyster mushrooms are a lovely ingredient to use in your everyday cooking. They are really flavoursome and have a nice, soft texture which works well in lots of different dishes.
If you are looking for some inspiration for oyster mushroom recipes then keep reading. We have put together a brilliant list of oyster mushroom recipes that are delicious and easy to make at home. 
 There is nothing more comforting than a warm bowl of nourishing soup when the weather is cold or you are feeling a bit unwell.
A lot of mushroom soups are creamy, but this one is more of a vegetable broth. It has aromatic flavours of lemongrass and ginger and is packed full of healthy vegetables.
It is also a naturally vegan recipe so it is a great meal to cook if you have vegan family members or friends. If you prefer creamy soups then you could try this Vegan Creamy Oyster Mushroom Soup which is velvety and garlicky, with coconut cream instead of double cream for a dairy-free meal.
If you want more of a rustic soup then try this Oyster Mushroom and Potato Soup with celery, onions, and hearty chicken broth. 
Mushroom risotto is another fantastic recipe that you can make with oyster mushrooms. It is flavoured with garlic, white wine and vegetable broth, with plenty of green spinach.
You can add meat if you want to, or keep it as a vegetarian meal. If you want to make it a vegan meal then don't add any cheese, or use vegan cheese as a topping instead.
The mushrooms are very flavoursome and add protein and important nutrients to the dish. If you are looking for more of a traditional, creamy mushroom risotto then try this recipe. You can use whatever mushrooms you prefer but oyster mushrooms would work really well. 
Mushrooms on toast makes a lovely breakfast or a simple, light supper. This recipe takes that classic meal and takes it to another level,
using delicious oyster mushrooms and creamy brie to create something really special. You could serve it for brunch, lunch, dinner, or even as an appetizer at a dinner party.
The mushrooms are cooked with white wine, garlic and fresh thyme – a classic combination of flavours. Using a good quality brie makes all the difference with this dish as it is a main ingredient. When it comes to the bread, you can use whatever you prefer.
The recipe uses crusty white bread, but you could use sourdough, ciabatta, french baguette, rye bread, seeded wholemeal bread – or try it with different types and see which one best complements the flavours of the ingredients.
Another fantastic recipe for mushrooms on toast is this one for Oyster Mushrooms and Ricotta on Toast, with bright and zesty lemon flavours. 
This recipe is a fusion of Chinese and Korean cuisine and would make a delicious weeknight dinner. It is quick and easy to make and packed with delicious, savoury flavours.
You can use whichever vegetables you prefer, but this recipe uses onion, broccoli, pepper, carrot and zucchini.
You could also include beansprouts, bamboo shoots or water chestnuts if you fancied. The mushrooms, shrimp and vegetables are cooked with soy sauce, oyster sauce, rice wine, and sesame oil then seasoned with salt and pepper.
You can serve this on top of steamed white rice or with some egg fried rice. If you want to try another combination of oyster mushrooms and shellfish then have a go at this recipe for Ginger Shrimp with Oyster Mushrooms.
You can serve this with rice, or add some noodles to the wok and turn it into a noodle stir fry. 
Mushrooms and blue cheese are a classic combination of flavours. The tangy, strong cheese complements the earthy flavour of the mushrooms, and the creamy sauce brings both elements together to create a balanced dish.
There are lots of things you can do with this recipe – dollop it on top of some toast, serve it on the side of a grilled steak with mashed potatoes or chips, enjoy it as a started with some crusty bread to dip it in, or create some delicious pastry parcels with this yummy sauce as the filling.
It takes only 15 minutes to make. It is really easy but has a rich, indulgent taste that you would expect to find in a restaurant. 
If you are looking for a vegetarian alternative to roast meat or a steak then this recipe would be perfect. It is sophisticated, scrumptious, and full of flavour.
You can use oyster mushrooms or a combination of different mushrooms, though shitake mushrooms are not recommended.
There are some great tips included in the recipe for working with puff pastry and getting the finish that you want. When this wellington comes out of the oven it will make an appetizing centrepiece for your table, so it would be nice to slice and serve it in front of your guests.
This will also make the experience more mouth watering, as the aroma will fill the room as you cut into the golden, flaky pastry.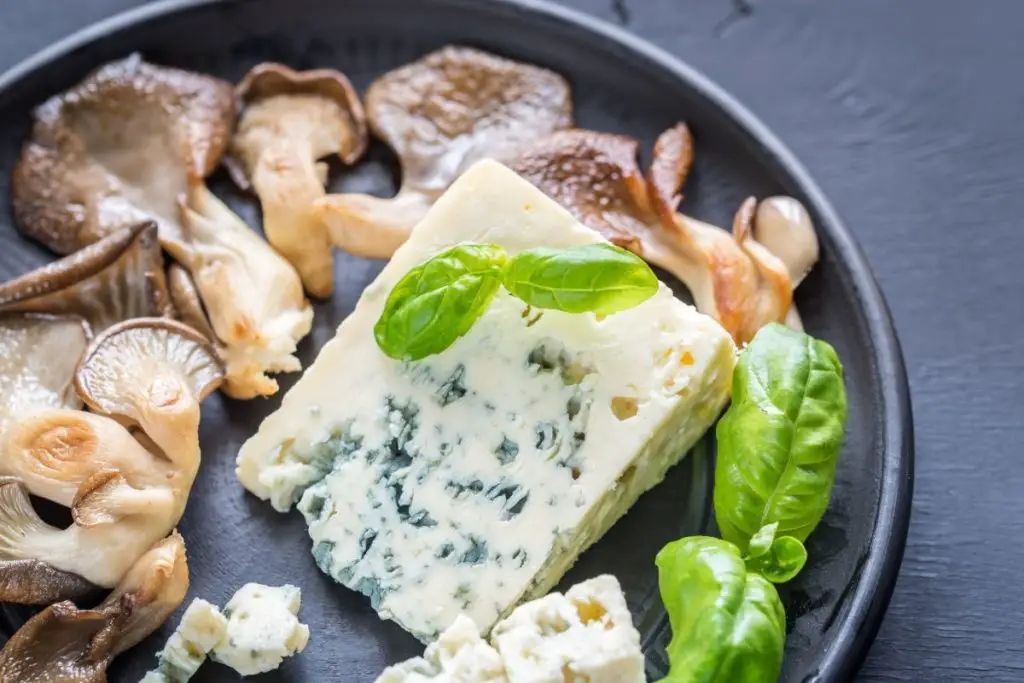 If you have recently switched to a vegetarian diet or you have vegetarian friends, this recipe is perfect for satisfying those cravings for Southern Fried Chicken.
The mushrooms are used instead of chicken, which works well because they are tender and juicy just like chicken. The crunchy coating is packed with flavour and will keep you coming back for more.
It only takes 25 minutes to prepare and cook this meal, so it is really easy to make on a Friday when you fancy something that feels naughty but is actually pretty healthy.
You can serve it with fries and corn on the cob, or perhaps some creamed corn and green beans. 
This recipe is a little more unusual but it will go down a treat if you cook it for your friends and family.
It is inspired by French cuisine and is a delicate yet flavoursome dish that works really well served with fresh green vegetables and new potatoes. The chicken is seasoned with salt, pepper and curry powder.
The mushrooms are tossed with scallions in curry powder, salt, garlic and oil before being spooned on top of the chicken breast.
The chicken and mushrooms are then baked in the oven for 15 to 20 minutes. The moisture from the mushrooms helps to make the chicken breast more juicy, and the flavours go really well together. 
If you love Asian recipes then you will really like this simple and delicious stir fry. It is a mild dish, with delicious but gentle flavours that are very versatile.
You can add some chilli if you prefer some spice, but the ginger and garlic are flavoursome enough. The chicken is tender and juicy and the mushrooms are soft and cook nice and quickly.
You can serve this with whatever vegetables you like, and steamed rice or fried rice. 
If you want to cook your oyster mushrooms as a side dish, then this simple recipe is ideal. The flavours tie together really well and would complement lots of different foods, like meat or fish, curries, and much more.